An insight into R&D at Newcells Biotech with Dr Fiona Leslie, PhD, Lung platform scientist
"There are always challenges when you develop an assay. It is just the nature of science. So, we need to spend time understanding the assay in its entirety. The result, however, is rewarding with a deep understanding of our models and high confidence in the data we provide to our clients."
- Dr Fiona Leslie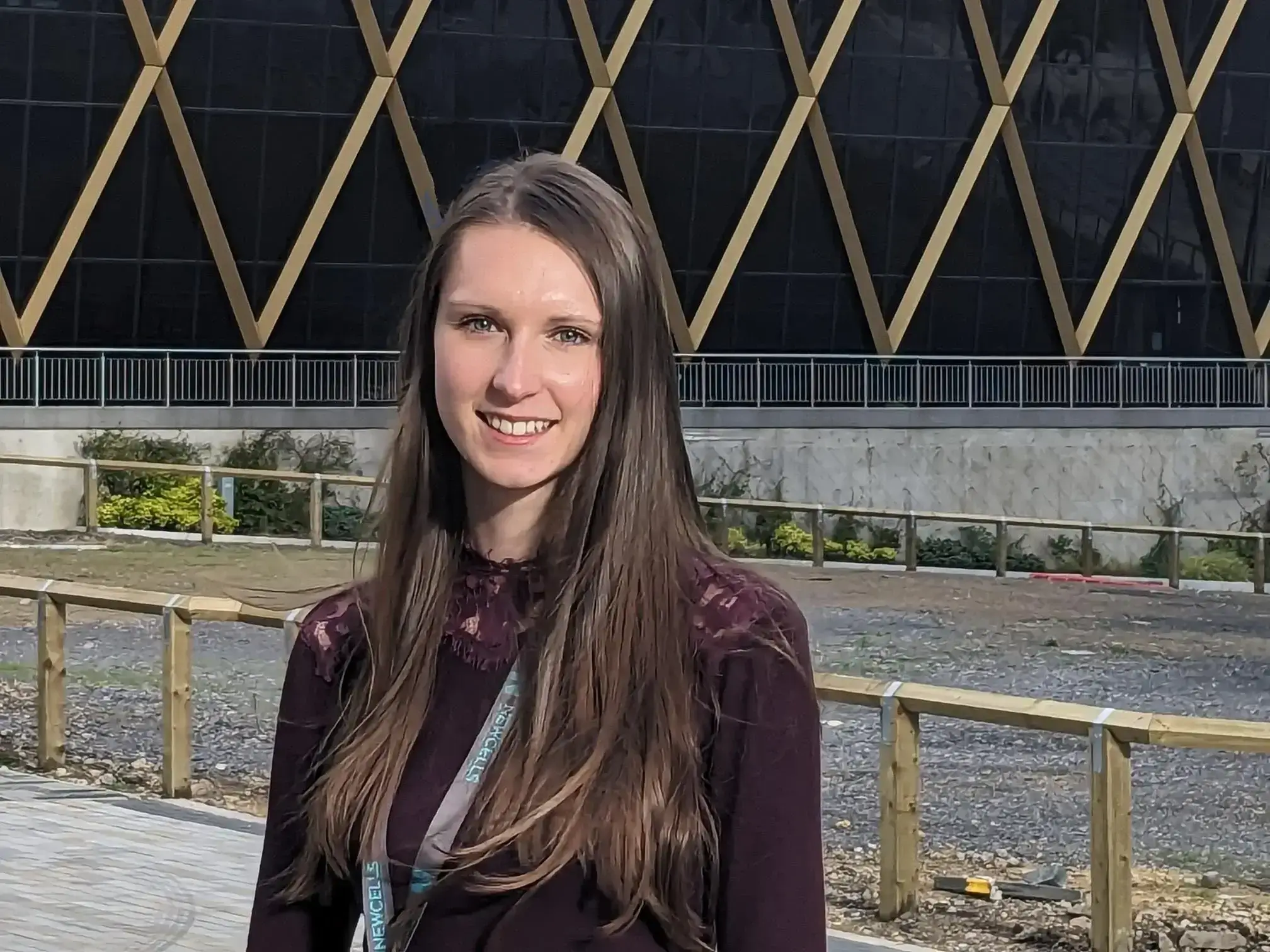 Can you tell us a little bit about your professional journey and how you made the transition to industry?
I have an undergraduate Degree in biomedical science and also completed a Masters in Immunobiology both from Newcastle University. My PhD took me to the University of Leeds investigating signalling mechanisms of glucocorticoids in inflammatory disease. My project included molecular-level analyses of cell signalling and some experiments looking at how factors such a cell morphology and extracellular matrix influence cellular responses to inflammation. This led me to my current post at Newcells Biotech, more specifically as the study of signalling pathways and skills I had acquired were relevant to the R&D carried out in the lung platform on the lung fibrosis model.  I joined the company two years ago, mostly working on the  FMT assay from its development to the product launch as well as executing and delivering the commercial projects.
Why  did you come to work at Newcells and what do you like about your work here?
First of all, I like Newcastle and the North East so I was keen to come back. Secondly I wanted to move into industry. The opportunity to work within the field of Lung R&D, building on my knowledge of signalling pathways to develop relevant models and assays was the perfect opportunity for me. What I enjoy the most is R&D because I enjoy the investigative aspect of science. I can also use skills that I have developed in the past as I continue to expand my knowledge and learn new techniques.
What is motivating at Newcells is that what we do is relevant to helping patients as it is closely linked to drug discovery. We also do a lot of development work to better characterise our models to be as rigorous as possible. As a result, we are supporting scientific progress that has an impact, which is very exciting as a scientist. I also like the fact that Newcells is an innovative company.
The other interesting thing is that we collaborate closely with other platforms within the company. For example, equipment such as ImageXpress Pico high content imaging (HCI) system from Molecular Devices (read more about HCI here) is an incredible resource, and when it was acquired, I was able to use it to develop the FMT assay service. It enables us to use high content imaging of primary lung fibroblast cells to assess the effect of anti-fibrotic compounds upon fibroblast activation and matrix deposition.
How did you find moving into the field of lung research ?
It was a smooth transition as I already had some knowledge. During my degree,  I did a module on lung disease, which gave me a basic understanding of lung physiology and I also had cultured lung-derived cells during my PhD. I do enjoy the topic and I really like reading about lung development, physiology and lung disease and being able to apply it to our models and assays.
What challenges that you face in R&D and how do you solve them?
When you develop new assays, such as the FMT, there are always challenges and things don't always go according to plan. This is just the nature of science. So we spend time improving our basic understanding of the models, for example, understanding the effect of different media components, the coating of the plates and how all these individual elements synergise, to optimise our assay protocols.  We do a lot of groundwork to understand the assay in its entirety to make it as robust as possible.  It does demand a lot of rigour and determination to keep going and not to get bogged down when things don't work out. The result, however, is rewarding as we have a deep understanding of our models and high confidence in the data we provide to our clients.
What is next for you?
Career wise I am very happy as I have just been promoted to Scientist II. Maybe one day I will have my own small team here. From a research perspective, I am looking forward to working on more complex lung models and also expanding the capabilities of the lung fibrosis assay, which is exciting.
Don't miss out on our latest innovations: follow us on Linkedin
Published
17th November, 2023