If you could not attend ARVO 2023 in New Orleans last month, but it is on your radar for next year, below are some meeting highlights from Dr Carolina Gandara Principal Scientist and Head of Retina Assay Development at Newcells Biotech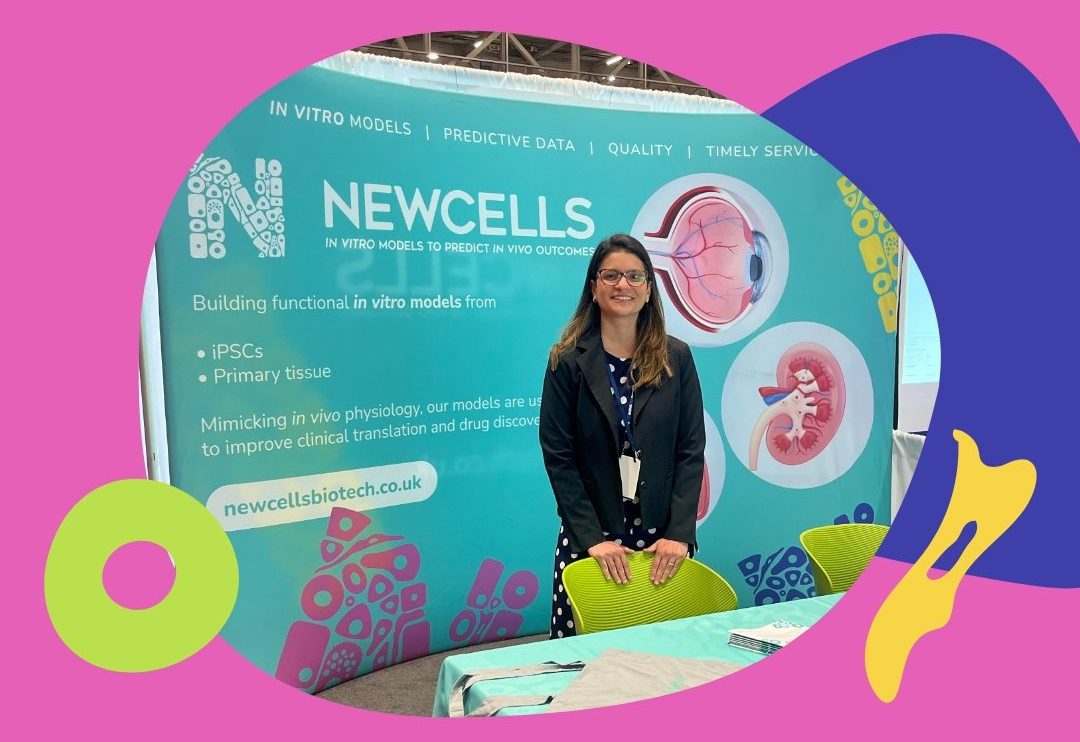 About the conference: ARVO
The ARVO conference took place in the New Orleans Ernest N. Morial Convention Center.  With over 10 000 attendees, the venue was absolutely huge. If you plan to go to ARVO next year, I recommend wearing trainers as walking from session to session can be a marathon!
Key Presentations
I was particularly interested in an award lecture presented by Dr Levin Leonard where he discussed the importance of robust, reproducible and reliable data to accelerate drug development.
Another interesting presentation was by Dr Budd Tucker who talked about tailoring the treatment  of IRD depending on the disease and progression state with either drug therapy, gene therapy or cell replacement.
Retinal organoids as in vitro models
It was interesting to see how human retinal organoids featured in a great number of talks supporting its position as a well stablished preclinical model. Human retinal organoids were used prior to animal (in vivo) models as a preliminary step to test efficacy of different drugs or therapies. The data obtained from human retinal organoids matched the data obtained from human retinal explants, showing the robustness of the model and confirming how retinal organoids can be used to refine in vivo studies contributing to the reduction of use of animal for preclinical testing.
The poster session Stem Cells and Organoids was very well attended. Many posters featured retinal organoids, showing for example data on the generation of retinal organoids from different animal species or interesting data from retinal models generated from patients with retinopathies or gene edited iPSC lines.
Finally, it was also interesting to see the use of retinal organoids to model transplantation as a new application.
About the exhibition: Newcells booth
There was a lot of interest in our retinal models, not only because no other supplier offered iPSC-derived in vitro models and services, but also due to our commitment to quality and attention to detail. Another hot topic in the booth was our rolling production of human retinal organoids. Retinal organoids are known for their lengthy maturation. Our rolling production provides customers an off-the-shelf service speeding up drug development.
About the location: New Orleans
New Orleans is a very agreeable and lively city. Walking through the French Quarter on a Saturday afternoon felt like being in the middle of a carnival: people on the streets wearing several shiny necklaces (known as Mardi Gras beads), drinking cocktails and busy bars along Bourbon Street.
We also enjoyed the New Orleans' traditional food: Jambalaya, Red beans and Rice, Gumbo, Crawfish, Beignets, Po-Boys, to name a few. The shrimps were fresh and delicious.
If you missed the opportunity to speak to us at ARVO and would like to talk about neural retina and RPE models, please contact me via LinkedIn or our website.
If you want to arrange a meeting with our retina experts then get in touch today
Contact
Don't miss out on our latest innovations: follow us on Linkedin