New Product Launched – aProximate™ 96-well Assay-Ready Plates
Our assay-ready plates give customers the flexibility to access freshly isolated human proximal tubule cells in an easy-to-use format for your kidney transporter and safety studies. Following on from the successful launch of our assay-ready plates in 24-well format, we are excited to now offer a higher-throughput 96-well format.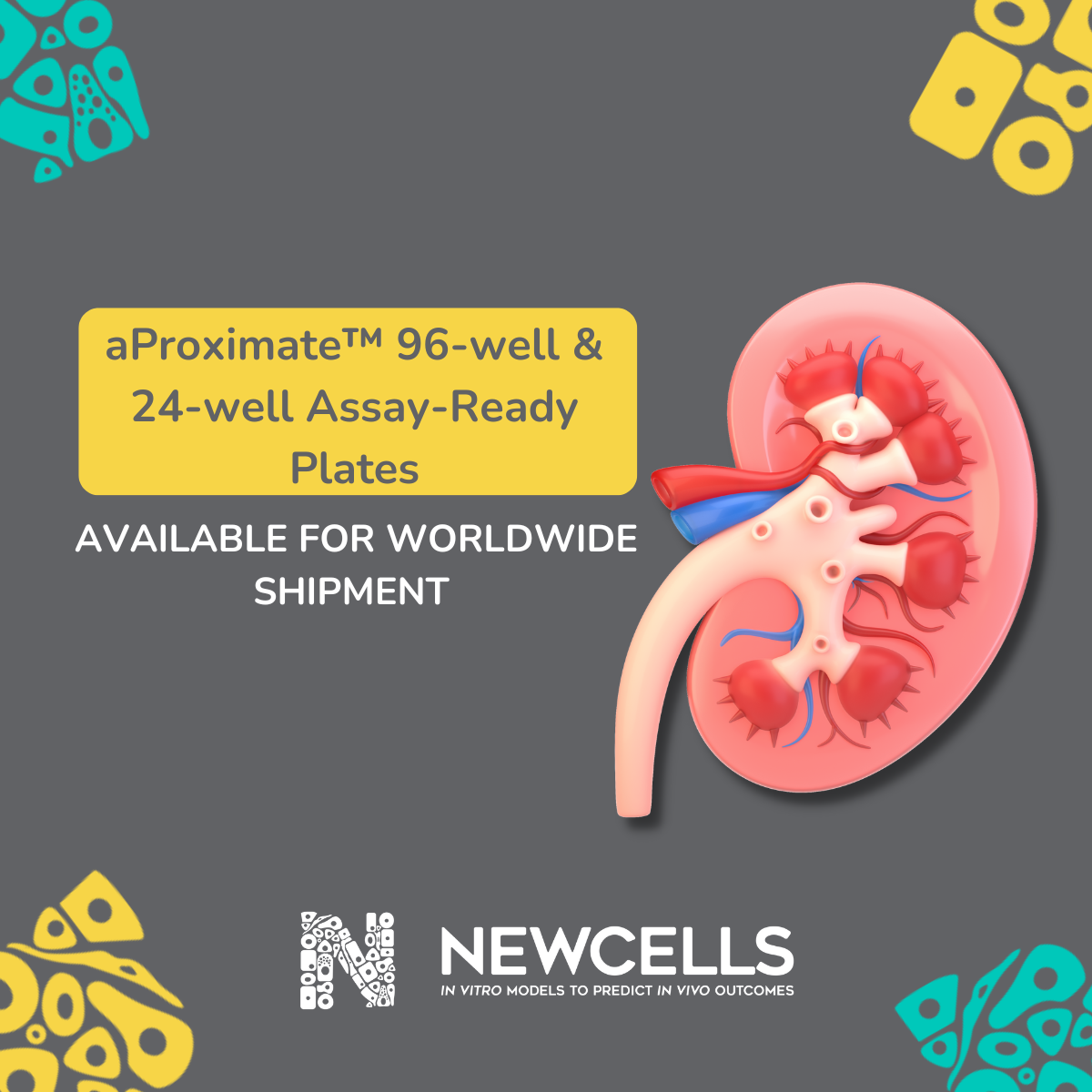 Get our aProximate™ PTCs to your lab anywhere in the world (24 & 96-well plates)
aProximate™ Assay-ready plates contain freshly isolated primary human proximal tubule cells (PTCs). The plates are provided in an easy to use 24-well and newly launched higher-throughput 96-well Transwell® format. The plates are available for worldwide shipping including to the USA and Japan. Visit our aProximate™ model page to find out more.
aProximate™ is one of the most advanced, near physiological, in vitro, kidney proximal tubule cell (PTC) models. aProximate™ PTCs are derived from fresh human kidney tissue and grown on Transwells®. The wells have two compartments separated by a filter recapitulating  the lumen and the blood. These wells allow the cells to remain as a polarised cell layer that forms tight junctions and to retain functionality. In contrast to other primary and immortalised kidney proximal tubule cells in culture, aProximate™ PTCs retain high expression of the key transporters involved in drug handling including Megalin and Cubilin, which is crucial for drug transporter studies. Studies with aProximate™ give a detailed mechanistic understanding of how new drugs are transported and eliminated through the kidney and how they interact with other drugs prescribed to the target patient population to help mitigate risk of renal toxicity.
Quality and maintenance
aProximate™ Assay-ready plates are ethically sourced and quality controlled to ensure the highest quality cells are delivered to each customer which are functional. The cells are shipped at 4oC in stasis media and require revival at 37oC prior to use. The model is provided with cell culture maintenance media and user guide with a simple but detailed protocol for cell recovery upon receipt. Cell recovery is assessed by measuring TEER (transepithelial electrical resistance). When TEER measurements reach a minimum of 60 Ω.cm2, the cells are ready to assay. Recovery of cells usually takes between 1 and 3 days. The cells must be revived immediately upon receipt and must not be frozen. You can watch a short video on the revival of aProximate™ Assay-ready plates here.
Applications
Many of our customers have successfully used our 24-well Assay-ready plates for drug transporter assays including flux and net transport measurements as well as measurement of intracellular drug and metabolite concentrations. Now, with the addition of the plates in a 96-well format, customers will be able to access our high quality and physiologically relevant PTCs in a higher-throughput format suited for drug safety and toxicology screening assays or high-content-imaging (HCI).
If you are interested to know more about aProximate™ Assay-ready plates and how we have validated the model, then visit our proximal tubule model page. aProximate™ has been used by clients for regulatory applications and has been well-received by regulatory agencies.
Interested in our aProximate™ model?
For more information contact us
Contact
Don't miss out on our latest innovations: follow us on Linkedin
Published
18th January, 2023
Categories
Kidney
Products