Lung epithelium in vitro modelling of SARS-CoV2 infections to aid Covid-19 treatments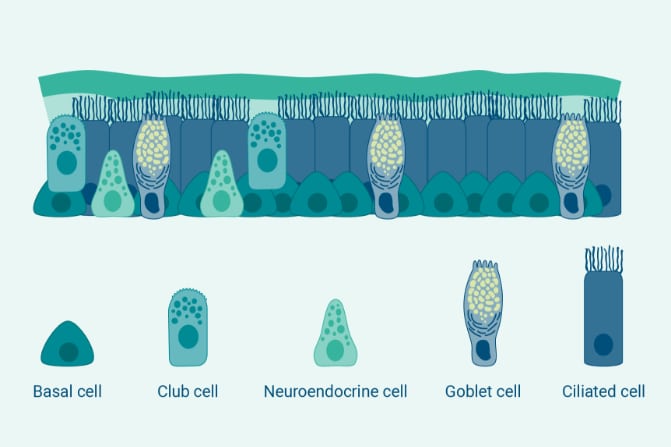 Newcells Biotech's team has developed a state-of-the-art iPSC-derived in vitro model of the human upper airway to accelerate the development of novel treatments against Covid-19 and other respiratory infections. This model is the best-characterised near physiological in vitro model available to rapidly evaluate the safety and efficacy of novel vaccines and drugs against respiratory viruses.
With the SARS-CoV2 virus causing over 4.1 million deaths worldwide in the last 18 months, we have witnessed a race to produce vaccines to immunize the world's population against this virus and emerging variants. This has brought about an urgent need for new in vitro models of the upper airway to allow modelling and in vitro screening of new treatments for SARS-like viruses and other respiratory infections.
Newcells Biotech's upper airway model has been tested and validated with SARS-CoV2 in collaboration with the Liverpool School of Tropical Medicine. Newcells' scientists led by Professor Lyle Armstrong, CSO, have demonstrated how the upper respiratory tract cells are infected by the virus and showing how the virus replicates effectively in vitro triggering a cytokine release of the upper airway epithelium, similarly to what has been observed in patients with Covid-19. This work has recently been published in the STEM CELLS journal. 
About the upper airway iPSC epithelium model:
Newcells Biotech's model recapitulates the 3D structure of the human upper respiratory tract, providing the closest functional replica of the organ microenvironment with comparable cell-to-cell communications. The model has a structured pseudostratified epithelium including a mucus layer on the apical side and an air-liquid interface. It also contains functional basal cells, displaying the characteristic tight junctions, goblet cells, club cells and beating ciliated cells, evidenced by gene and metabolic enzyme expression data. Existing in vitro models based on human primary upper airway epithelial cells are limited in supply, hard to expand ex-vivo and show donor to donor variability. In contrast, iPSC-derived models, such as the one described here, overcome these challenges increasing consistency and reliability while providing a continuous source of high-quality material. 
The advanced near-physiological iPSC-derived human upper airway model developed by Newcells Biotech expands the company's portfolio for drug safety and efficacy testing to the lung. Newcells biotech offers a high quality and reliable service for the evaluation of customer compounds. Our platform of services includes the design of study protocols and the analysis. All experiments are carried out in our UK laboratories by our team of experts. Several models are available for shipping upon request. 
For further details, watch our webinar "A human iPSC-derived model of SARS-CoV-2 infection and pathogenesis in the lung" here.
This work has been published in the STEM CELLS journal– contact us to join our mailing list to gain more information about the development and verification of our airway model.
Don't miss out on our latest innovations: follow us on Linkedin
Published
3rd August, 2021